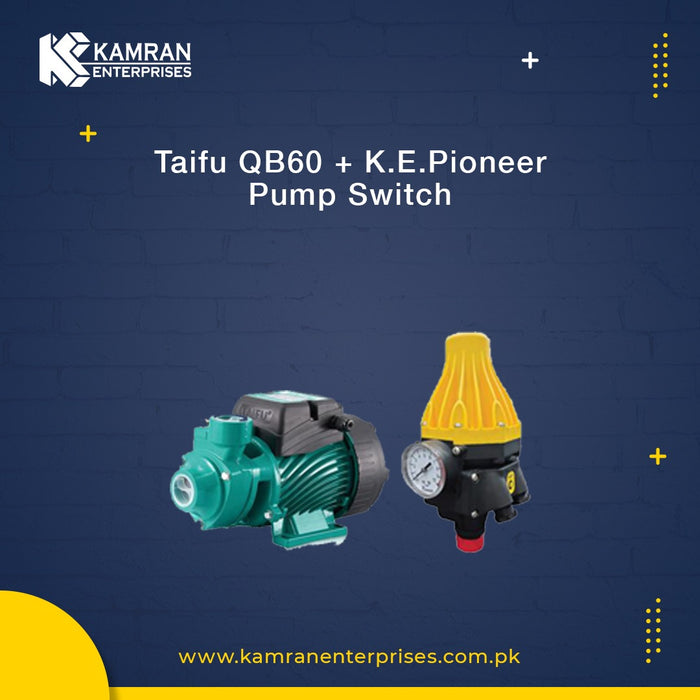 PRESSURE BOOSTER SET - TAIFU QB-60 PUMP + K.E PIONEER PRESSURE CONTROLLER PS-3.1
SKU
TAIFU QB-60 + PIONEER SWITCH
PRESSURE BOOSTER SET - TAIFU QB-60 PUMP + K.E PIONEER PRESSURE CONTROLLER PS-3.1
TAIFU QB-60 WATER PUMP
Adopting DE carbon mechanical seal, prolong service life 170%.

Class-F copper wire, motor heat resistance up to 155℃.

Anti-rust, wear-resistant and high precision.

100% High precision rotor fault detection test.

Welded stainless steel rotor shaft.

Thickened and renforced, stable and durable.

Cooling sink area increased by 20%.

Thickness of motor body and foot increased by 20%.

Adopting original Japanese-imported casting line.

High strength and corrosion resistant.

100% Electrophoresis treatment for anti-rusted.

Anti-strike and anti-aging.

Reinforcing nylon material.

Anti-drop test 0.8 meters withstand 500g.

Brass.

100% export, sold more than 50 million units to more than 100 countries.
K.E PIONEER PRESSURE CONTROLLER PS-3.1
Applications: Assembled on a pump for automatic water supply and reduce the water hammer. Free of maintenance without preload of air.
Specifications: Quiet running operation. Non return valve built-in, Pressure gauge, pressure switch and electronic control with dry running function integrated and manual reset button
It saves electricity as now as soon as you close your tab the motor will be turned off that means no wastage of electricity.