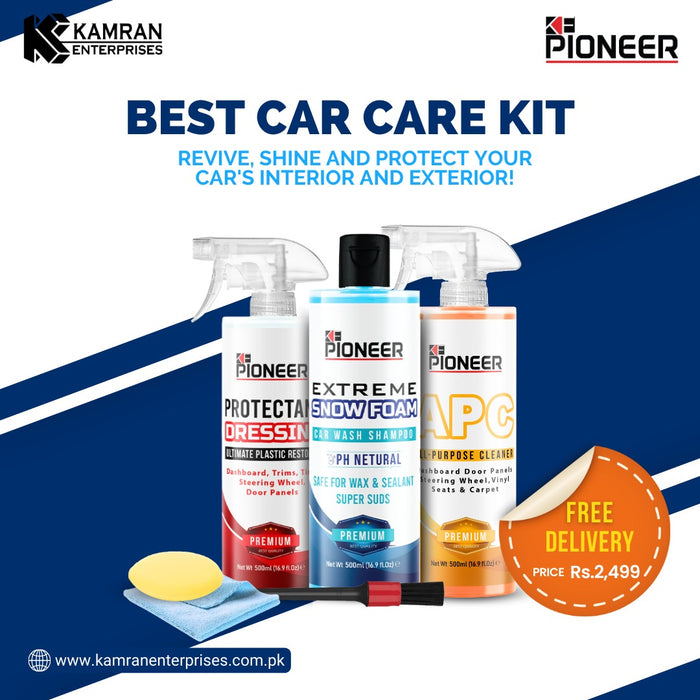 K.E PIONEER All In One Car Care Kit - Pack Of 3 With Free Microfiber Towel, Detailing Brush & Applicator
SKU
apc + snow foam + dressing
K.E PIONEER All In One Car Care Kit - Pack Of 3
K.E PIONEER All-Purpose Cleaner & Dressing Description:
Versatile formula cleans interior & exterior automotive surfaces.

Quickly removes stubborn dirt, grease & grime.

Quick one-step detailing on the go.

Restore original OEM appearance.
​Clean dashboards, door panels, steering wheels, shift knobs, vinyl seats, glass, LCD screens, tires, engine bay, carpet, and more.
​Stains, grime, grease, and dirt don't stand a chance against the strength of this All-Purpose Cleaner. The amazing super cleaner is strong on dirt and stains, and gentle on sensitive carpets and fabric surfaces.
Your favorite all-purpose cleaner is available in Aqua scent for a unique cleaning experience unlike any other.
DIRECTIONS:
SHAKE WELL. Always test for colorfastness and compatibility on a small inconspicuous area.

Apply a few sprays to a clean towel or directly to the surface.

Gently wipe the surface to remove dirt, dust, and body oils.

Once the surface is cleaned, flip over the microfiber towel to a clean side and buff off any excess product. Reapply as needed.

K.E PIONEER Extreme Snow Foam Car Wash Shampoo Description:



GLOSS ENHANCING SHAMPOO

SUPER SUDS

SUPER SLICK WASHING EXPERIENCE

SAFE FOR WAX AND SEALANT

INTENSE FOAM CLEANSING ACTION.

Lifts away dirt and road grime. Maintain your show-winning shine. Coat your car in tons of scrubbing bubbles. Protect your ride against swirls and scratches.

SNOW FOAM Car Wash is the perfect maintenance car wash shampoo that is tough on dirt, yet gentle on wax and sealant with slick lubricants that gently guide dirt and grime off the car for a scratch-free wash. The high level of foam makes this high-tech shampoo perfect for foam cannons and foam guns, or the two bucket method.

DIRECTIONS

Rinse the vehicle to remove loose dirt and debris.

Shake well and add 50ml to 3 gallons bucket.

Wash the surface with a Wash Mitt and soapy solution.

Thoroughly rinse using clean water for a perfect shine.

Dry with a microfiber towel.